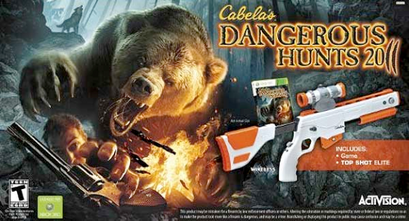 Cabela's Dangerous Hunts 20((
is a survival, hunting game published by Activision and Couldron. It was released on October 26th with the Top Shot Elite on the systems, Xbox 360, Wii, and Playstation 3.
The game mostly follows Cole Rainsford, who's a professional hunter who joins his father on an African Safari, hunting demoned possessed animals and the Kaftar.
In Nightfall 2: The Legend is BackEdit
The game is mentioned several times, but never seen.
In Nightfall 4: The Legend is at its DarkestEdit
The game is revealed by the Kaftar to be loosly based on his attacks, and Sally and Li Moon journey through several parts of the game while in the Circle of the Shapeshifters.